Wednesday, January 04, 2006
As promised.. i am gonna upload the pics dat i took with mOi dearie gaLs.. and this is to the courtesy of Elaine! the onli one who brought camera.. seek brought one with no batt!! diaoz -_-" oh well, let the fotos tell aLL!! =))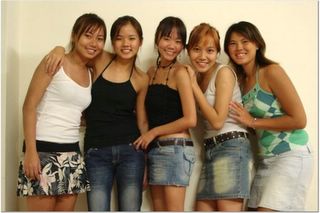 Me, Seek, Laine, Jars, Stace



i love aLL Of them.. mmuacks~



HaPpy haPpie Us!! =))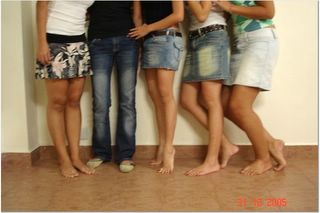 pOor eLaine had to tip toe to make up for the height issue.. haha! =X

okie aniwae, we aLL know dat Jasmine had recently dyed a very "ah Lian" hair (thou it kinda faded quite a bit).. no thanks to the hot red coLoured fringe that's hanging on her high forehead.. =P yup and Stace met with an "accident" where she's kana hit by a squash racket by her team mate.. unfortunately it left two "blue-black" bruises and one cut on her upper lips.. i came up with this lame idea of them takin shots together.. so it looks as if the chao ah lian is "dulan" of Stace tt she hits her.. ahaha.. LAME!
here is the series of pics..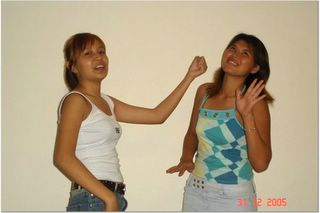 failure act 1 (stace still smiling..)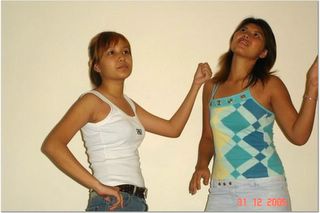 failure act 2 (eh.. their acting skills lousy huh?)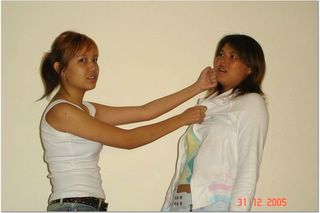 nOw.. Jasmine lOoks as if she's realli mad at Stace..

wahahahaaa... i think the facial expression dat Stace gave is so funny.. Luff mi ass off sia.. muahaha~!!

aniwae, Stace and me got this glass shoe handphone holder.. looks kinda cute and bimbotic.. so typical of Elaine.. oops! =X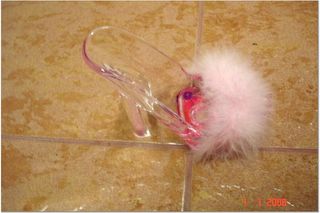 LoOk at this small little gLass shoe.. isn't it loveLy?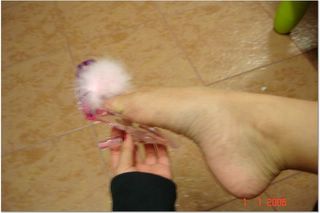 the evil stepsister tried to fit intO this pretty Lil' thing..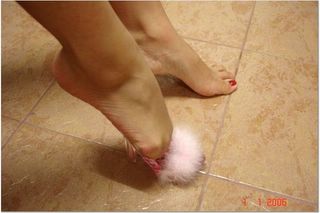 yay~! and she could "mian qiang" fit in!! hahas!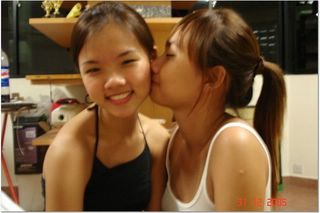 oh and did i mention i love mOi Seek Mommy? *winks*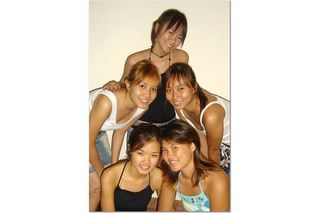 frens for Life!! i Love this pic..

- THE END!!! -

Psst..!! aniwae i guess i had to thank the photographer who had to tolerate our bimbotic-ness and takin the nice pics.. of cos and the candid ones.. Thankew *Dear!! heehee.. =))